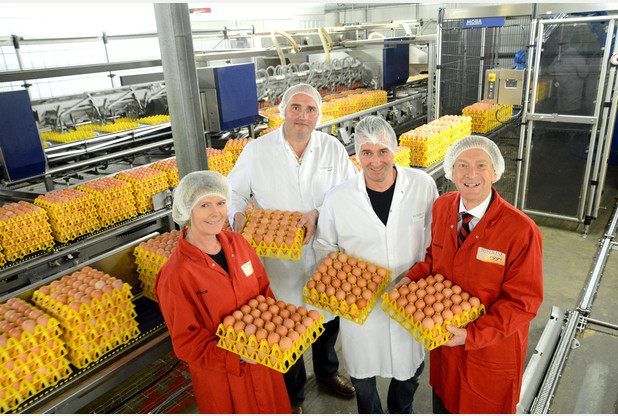 Annalise Lovett, Phill Crawley, Ady Crawley and David Hastings
A Leicestershire poultry farm is aiming to grow its egg packing and turnover by 20 per cent after investing in new machinery.
Sunrise Poultry Farms, of Sileby, has invested in a £1.4 million machine, manufactured by Dutch company Moba, which sorts, processes and packages more than three million eggs each week.
This is up from 2.25 million eggs per week before the machine was purchased.
Chris Stocks, commercial manager at Sunrise, said: "We purchased the new machine as it allowed us to produce more products of a higher quality.
"The machines are, surprisingly, more gentle, reliable and precise when sorting out the eggs.
"It also saves time as every lift that the robot does is the equivalent of four human lifts in one.
"Thanks to the machine, there is now less wastage and also the presentation is better. This allows us to chase more business, as the eggs are more presentable and we are producing more.
"We're hoping to increase our turnover by 20 per cent next year."
The business, which employs 80 people, hopes to take on a further five staff over the next 12 months.
Even though the machine has replaced some of the manpower in the egg grading and packing side of the business, Chris said the firm tended to retrain staff in other areas rather than make them redundant.
He said: "Even though we have this machine, it actually creates jobs as we need more technically aware people to look after it and make sure it is running smoothly."
The firm was able to purchase the new machine thanks to its accountancy firm, Newby Castleman.
Sunrise Eggs benefitted from the research and development (R&D) tax credit, saving more than £80,000 in tax following the purchase and installation of the egg sorting and packing machine.
Phill Crawley, managing director at Sunrise, said: "Without the advice from Newby Castleman, we wouldn't have known about the tax credit available to businesses like ours.
"The savings have been a huge help and have enabled us to move along with our growth plan."
His brother Ady, who also runs the business as a managing director, said: "This has been a major investment for the business but one that helps us now and in the future, giving us room for further growth in the long term."
Sunrise Poultry Farms was founded in 1971 by former nuclear physicist Tony Crawley and his wife Shelia.
It was a natural progression from a business that Tony had built up from a hobby, of rearing and supplying point-of-lay pullets to other egg producers.
Their sons Phill and Ady took over the running of the business in 2001 after Tony retired.
The firm supplies eggs to several national supermarkets, food service companies and corner shops in the region.
Article by Leicester Mercury